I finally got my yarn order cleared up, and 2 shipments should be in the mail by tomorrow. I will order the third as soon as I get the shipping invoice :) This means, not only will I hopefully get them in time to do an exciting Halloween themed Etsy restock, complete with new designs, but soon we're going to have tons of new options for you! Here's a sneak peak.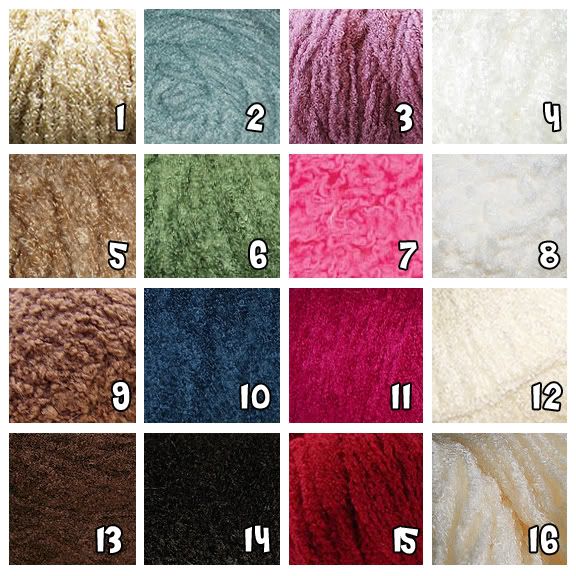 1. Sand 9. Soft Brown
2. Sea Glass/ Light Teal 10. Lake Blue
3. Rose 11. Hot Pink - Next Shipment
4. Pure White 12. Light Creme/ Off-White
5. Taupe/ Light Brown 13. Chocolate - Next Shipment
6. Bamboo - Next Shipment 14. Black
7. Raspberry (Extra Fluffy) 15. Red - Next Shipment
8. Pure White (Extra Fluffy) 16. Vanilla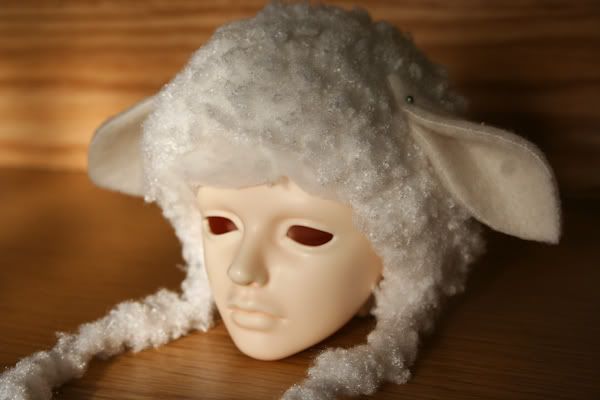 Here's a teaser of Logaeth's SD sheepie hat. It's made using color #8 so its fluffier than the average yarn and so very soft. I think it really gives it that lambie-look... and is super adorable! Any hat's made using my Extra fluffy yarns are slightly thicker, and more stretchy so they really compensate for those extra bulky wigs, or odd sized heads. He still needs his ears (I just made temp ones for the photo!) and stubby little horns but it's mostly complete!
So this means that yes,
I now have a pattern for SD hats
in two sizes- Standard Fit (for Regular Heads with Average Wigs or Smaller Heads with any Wig Thickness) and Large Fit (for Bigger Heads with Average Wigs or Regular Heads with Bulky Wigs... or if you just want that over sized look!). I probably won't be producing these in my store on a regular basis, so they are
only available on commission request
.
I can't wait to see this on her boy! It's TOO cute.
Stay Connected!

The Hello, Monster Store
| Buy Closet Monster Apparel

Hello, Monster @ Flicker
| Friend us on Flickr

Hello, Monster's Flickr Group
| Show us your Closet Monster Photos
Commission Thread @ DoA
| Commission Our Services