Time for an update!
As we are getting closer to our opening, we are busy taking photos, editing, and putting together our information database. Here's a sneak peek at our current designs. Keep in mind though, that the sky is the limit! See a design you like but want it in a different color?
Done.
Check out our color selections below and start dreaming up your ideal little closet monster.
And hey, we can even edit the design if you want your own little one of a kind monster. Turn that kitty in a fox or a wolf. Give that bear a lions mane. Shorten those dragon ears and change its scales to fluffy white fur. Add bows, buttons, blush or sparkles. Throw on some spots, or a cute little face. If you can dream it up, we can try and make it happen. Don't let reality hold you back... now jump in and let's get to the closet monsters.
What came first? That's right... the big ferocious and oh-so-cute Dinosaur. Dino monsters are available in all colors (shown below). Pick your base color and pick your spike color- it's all up to you. Let your imagination run wild and let's get to stompin' and roarin' down the street.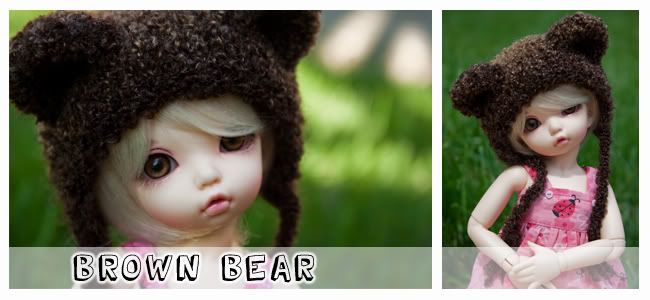 Are you late for the teddy bear picnic? Grab a pair of ears and let's go! Standard Brown Bear Hats are made from an extremely fluffy boucle yarn that makes for one cuddly teddy bear hat. Don't worry though, we don't discriminate here at Hello Monster- Polar Bears, Black Bears and Fantasy Bears are also available on request.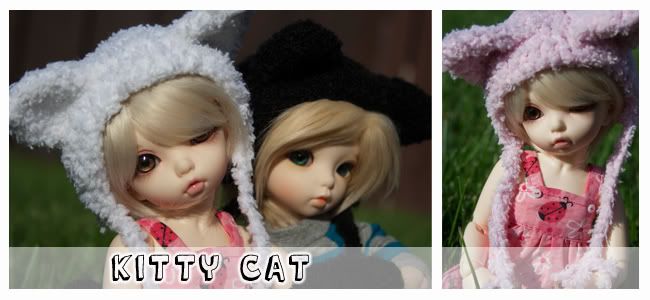 Kitty Cat hats are purr-fectly adorable and available in black, white, and all fantasy colors (shown below). Ear inserts (a second color patch for the inner ear) or blushing is also available for an extra fee.
What's cuter than a little panda? Not much. Stick this hat on your doll and you're bound to melt into a big puddle; It's so cute, it's almost illegal.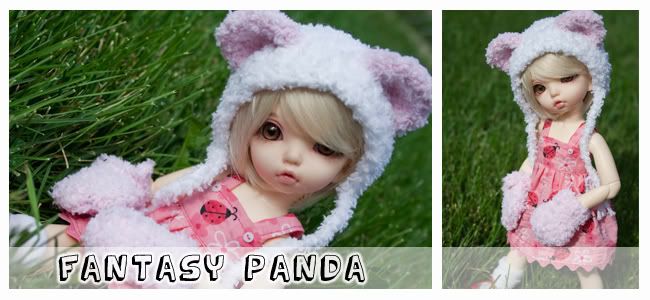 Who says pandas need to only come in black and white. Add a little color to your world! Color choices are shown below.
Baby dragons might look cute, but they are fierce on the inside. Is your little one a little fire-breather? Dragons hats come in any fantasy color (show below) and default light tan horns. And you know, if you want one in white, we could stub the horns and round the ears, and it would make for one adorable little lamb. XD **Dragon hats can be brought down to a point on the forehead if desired, for that ferocious look.**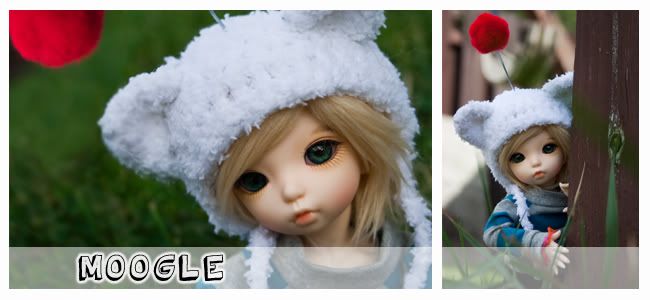 For you video-game lovers, we managed to lure a few Moogles into the Closet Monster troop.
Moogle hats feature the distinct "red ball" floating atop the fluffy white head. These are suspended on medium gauge wire with a bit of ingenuity. There are no sharp points and the wire will not come in contact with your doll.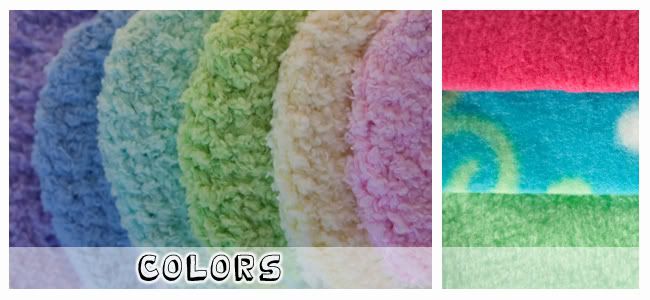 On top of basic white, black and brown, we offer these current colors: Luxuriously fluffy
Plum Purple, Cornflower Blue, Aqua Mint, Lime Jelly, Buttermilk Yellow, and Cotton Candy Pink.
Fleece for Dino spikes come in
Magenta, Undersea Teal, and Lime Green
. Other colors can be searched for on request, but fluffy yarns in the right weight are so hard to find so I can't promise anything. However, please don't hesitate to ask!
Keep in mind, that colors are limited and we can't guarantee we will be able to get any more when we run out, so don't think about it too long! :D